Doorn (U): reformed church or Maartenskerk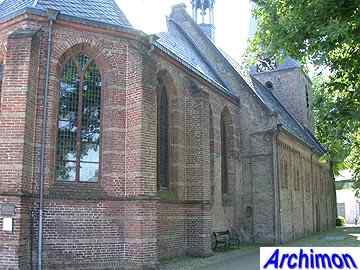 The old church of Doorn, in catholic times called St. Maarten, dates back to ca. 1180. The oldest part is the northern half of the nave, which is in Romanesque style and built of tuff. A sober brick tower was added later in the 13th century. The original Romanesque choir was largely replaced by a new one in Gothic style, using brick and layers of tuff taken from the old choir. On the south side a sacristy was added.
In the 19th century a door was added to the east end of the choir, to serve as the new main entrance. During a restoraion in 1887-1888 the walls of the nave were heightened to accomodate a new roof with wooden barrel-vaults, which explaines why the eastern sounding-hole of the tower is partly blocked. The originally one-aisled church was extended with a southern aisle in 1924 by architect J.C. Wentink. This southern aisle looks practically like a mirrored copy of the old nave but actually the Romanesque look of the old nave isn't completely original either. Instead of the current double windows, the old nave originally had single windows only, which in the Gothic period had been replaced by larger pointed ones.