Houten (U): reformed church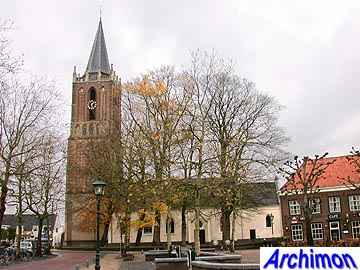 The combination of a tall tower with a relatively low one-aisled church gives the impression that an older church was replaced here by a smaller one. But no matter how strange this combination looks, it is quite old. According to traces in the church's southern wall, the building dates from the 12th century. Originally it must have been a church in Romanesque style, made from tuff. In the 13th century the church was enlarged using brick; the square choir dates from this period. The tower replaced a previous one, and was started in 1535. With its series of three niches on each side of the upper two segments this tower is one in a series of towers in this province, but also outside of it, that were inspired by the tower of the cathedral in Utrecht.
Since the Reformation this church has been in protestant hands. Like many other protestant churches, the nave of this one has been plastered and painted white. An entrance in early neo-Gothic style was added in the 19th century.