Utrecht (U): St. Antonius van Padua (J.Th.J. Cuypers & J. Stuyt, 1902-1903)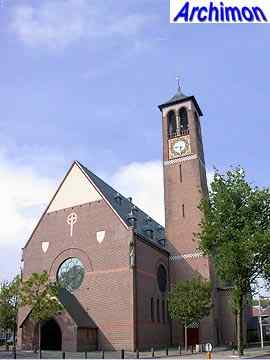 This cruciform church with its tower in Italian style (a "campanile") and its round apse was the first catholic church in Utrecht in many years that was not built in neo-Gothic style. It was designed by Jos Cuypers and Jan Stuyt, and is one of many confusing examples of this duo's cooperation, making one wonder who did what. Jan Stuyt's usual chessboard tyle-decorations are present at various places of the building. Both architects continued using Romanesque-style apses in their later work, both as a duo and solo, so it remains unclear what exactly was Jos Cuypers' contribution to this church. Judging from the tower it seems likely this was mostly a Jan Stuyt design.
The future of the building is unclear as it seems its parish is about to abandon it, as the neighbourhood these days is mostly inhabited by muslims.