Utrecht (U): Geertekerk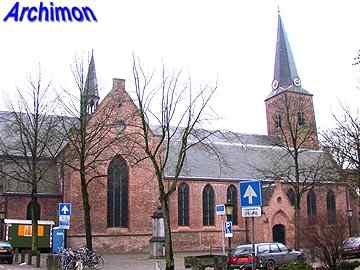 The Geertekerk is a three-aisled cruciform building which at first look makes a very modest appearance. The church was originally built from 1248 until 1259, when it replaced an earlier church just outside the city walls. The new location was just inside the walls. First a simple Romanesque hall was built. A tower was added later in the same century, which is now the oldest part of the church. The transept and chancel probably date from the early 14th century. These are in a sober Gothic style. The side-aisles were added in the second half of the 14th century or early in the 15th century. The nave was transformed into the central aisle at that time, with the walls being turned into pillars and arches. This situation was restored in the 1950's, although only a very small part of the original walls remains, because during a rebuilding in the 1860's most of the remaining walls were again replaced by new, closed ones, that turned the side-aisles into seperate spaces. In the 15th century portals and chapels were added.
The church has had a turbulent history since the Reformation. As the least prestigious of the four parish churches, the Geertekerk was left to the catholics longer than the others. However, in 1580 the protestants betrayed their alliance with the catholics and turned the common war against Spain into a war against the catholics. The Geertekerk was now confiscated as well and used as barracks and stables before the protestants began to use it for their own services. In 1930 the reformed no longer needed it and closed it. Despite numerous pleas from the catholics to let them buy the church, the protestants left the building to fall apart, to make sure it would never be catholic again. Within two decades it had become a ruin. A picturesque ruin, according to some, although a book in 1953 described it as "a few pieces of wall beyond any repair". Pictures of the church from that time confirm this; the walls were in a very bad state, with trees and other forms of vegitation growing in their middle. The roof had completely gone, as had the flooring. But not long after this was written rescue came. The reformed had finally agreed to sell what was left of the building. Not to the catholics of course, that was still right out of the question, but to the remonstrants, a different branch of protestantism that they disliked a bit less than the catholics. The remonstrants sure made a brave decision, as they already had a very nice church which was in a good state. One can only wonder why they chose to leave that for a ruin. Restoration lasted until 1956. After that, in some places the church looked like as if it were new.