Woerden (U) : reformed church or St. Petrus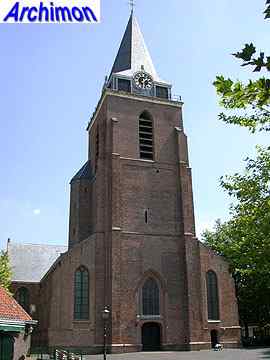 The oldest reference to a church in Woerden dates from 1202. In that year the church was destroyed by fire. A new church was built later.
Like its predecessors the current church was built on the location of the Roman castellum. The tower is the oldest part and dates from ca. 1315. It's built in a simple and robust Gothic style and is the only remaining part of the second church. In ca. 1450 a bigger nave and a new choir were built, both in late-Gothic style. In ca. 1500 the choir was extended with an ambulatory and radiating chapels. In the mid-16th century the southern entrance was transformed into a new building which was used for the storage of the archives of several official institutions.
In 1566 the church became protestant. Unlike most other churches that were confiscated by protestants in that period the St. Petrus became Lutheran, not Calvinistic. When in 1594 calvinism became the official religion in Woerden the church also became reformed.
In 1672 the church was badly damaged by fire. Three years later it was rebuilt, but with a simplified roof on the ambulatory. In the 19th century a coat of plaster was added to the outside. This was removed during a big restoration in 1980-1983.